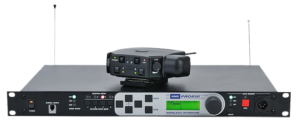 With the HME PRO850 Wireless Intercom System, you'll get exceptional operating range, cutting-edge features and the flexibility to configure and expand the entire system to meet your unique communication needs. With more value, better performance and greater reliability, the PRO850 is the ultimate solution for all your intercom needs.
Innovative features like PC interface, automated power control, simultaneous dual-channel interface, Wireless ISO – plus all the standard capabilities – give you more operating power and flexibility to achieve the best performance. Combine all that with a ruggedly-constructed design, the HME PRO850 provides the utmost reliability and sound quality.
Up to 4 full duplex/16 push-to-transmit beltpacks per base station and up to 3 bases can be linked to support up to 48 wireless users.
NOTE: Most users do not need a license to operate this wireless microphone system. Nevertheless, operating this microphone system without a license is subject to certain restrictions: the system may not cause harmful interference; it must operate at a low power level (not in excess of 50 milliwatts); and it has no protection from interference received from an other device. Purchasers should also be aware that the FCC is currently evaluating use of wireless microphone systems, and these rules are subject to change.
Source: http://www.clearcom.com/product/wireless/HME-PRO850
---
The easy-to-use HME DX200 System comes complete with synthesized voice prompts, rechargeable batteries, battery charger and rugged, lightweight COMMUNICATOR®s for reliable and cost-effective operation. With digital encryption and frequency-hopping technologies, you'll never have to worry about unauthorized users hearing your conversation.
Now you can mix and match two COMMUNICATOR models: the WH200 ComLink All-in-One wireless headset or the BP200 Beltpack with your choice of plug-in headset. Up to 15 COMMUNICATORs can be assigned to each base station, any four of which can be used in hands-free, full-duplex mode, and a 5th when the base station headset is used. Expandable system enables up to 4 base stations to be used together for a total of 60 COMMUNICATORs with up to 16 in full-duplex, single channel mode.
---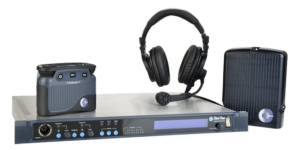 FreeSpeak II™ is the next generation DECT-based distributed wireless solution that operates in multiple world-wide license-free frequency bands: 1.897-1.933GHz. This high performance wireless intercom system is designed for extensive communication in large-scale operations. Its ability to maintain a strong and continuous wireless connection across an expansive coverage area while providing crystal-clear digital audio makes FreeSpeak II the ideal wireless roaming solution for live event, broadcast, sport production, industrial, military and government applications.
Up to 25 DECT Beltpacks (maximum in good conditions) can be used in the same contiguous RF space in the US.
Up to 50 DECT Beltpacks (maximum in good conditions) can be used in the same contiguous RF space in Europe and most of the rest of the world.
---