DB Technologies – Over the years, dBTechnologies products have gained substantial recognition for their technological innovations, as well as their inherent standard of quality. Years of continuous significant investments in design, R&D and manufacturing technologies have made their mark on the industry.
---

Fine Art – Fine 2000XF is a follow spot with 2000W xenon lamp. Adopted xenon lamp as the light source, flexible and convenient, the body can up and down, movable and can be positioned. Fission type structure, the installation and transportation are more convenient.
---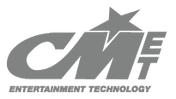 CM Lodestar – Heavy Duty DC Brake: designed for a long service life, the brake location allows for quick access & easy inspection. Low Voltage Control, 110 Volt for long cable runs without voltage drop. 24 & 48 Volt optional. (Low Voltage Unit Only) Durable & Lightweight Housing, cast aluminum. Black powder coated finish for low visibility.
---
TheatrelightNZ – Theatrelight New Zealand is dedicated to the design and manufacture of lighting control equipment for the entertainment industry which has reliability and ease of use as its major attributes. Theatrelight supplies a flourishing export market to many countries worldwide. Theatrelight equipment is installed in many major venues in Australia and New Zealand, in Southeast Asia, and in Japan and Korea. Theatrelight's largest installation base is in the Peoples Republic of China, where its control desks and dimmers are installed in many of the country's theatres and television stations.
---
Lectrosonics – The rugged, water resistant MM400C is based on Digital Hybrid Wireless® technology, a revolutionary new design that combines 24-bit digital audio with an analog FM radio link. The result is outstanding audio quality plus the extended operating range of the best analog wireless systems in a package that can withstand the most extreme moisture and temperature environments.
---
HME – Drive-thru headset systems and timers from HME work to optimize employee productivity and drive-thru service, speed and sales. Drive-thru headsets and drive-thru intercom systems employ the latest in sound technology to dramatically improve communication between your customers and employees. You benefit from faster service times, greater order accuracy and increased profitability.
---
Goliath – All of the Studio Pro models benefit from a rack and pinion elevation design with automatic safety system. The upper sections move simultaneously and evenly upwards without the need of locking pins. The additional automatic safety system comes as a standard on the 3rd section.
---
Checkers – In 1987, Checkers Safety Group® began with a simple vision. It was to be a dynamic and growing organization dedicated to saving lives and protecting assets by delivering innovative safety products. That vision still drives Checkers today. With our product offerings of Cable and Hose Protection Systems, Wheel Chocks, Warning Whips, Warning Lights and more, Checkers creates reliable safety solutions for our customers.
---
Spotlight – 50 years of light to serve the most famous theatres, museums and fashion brands worldwide.
---
Look Solutions – A good cooperation of the components Development, Production, Sales and Service is important to satisfy the rising
demands of the market. Due to our close and direct partnership with our manufacturer OTTEC Technology GmbH all components are united in one building.
Look Solutions actively participate in the development and manufacturing of the products and continue to communicate important feedback from the customers.
Ideas from customers can influence the development of products directly.
---
F.A.L. – Power, Versatility, TechnologyFounded in 1983, F.A.L. has a long establishedand prominent role in the lighting industry. Over 20years experience in entertainment, theatre, stage andarchitectural lighting has given F.A.L. a rock-solidreputation for high performance, high quality andaffordability to the lighting market.In 2005, F.A.L. become part of the IAG Group, oneof the world's leading enter tainment technologymanufacturers. The result, F.A.L. products now offera new standard of high quality, high performance andaffordability to the lighting market.F.A.L. launches its new premium range of TheatreLighting range that presents unparallel features anduncompromised designs. Its Architectural Lightingrange is also continuously expanding and is nowable to offer our customers all the advantage of LEDtechnology in a series of modular and highly flexibleLED Lighting systems.
---
Smoke Factory – We produce devices made in Germany. Reliable. Robust. Customer friendly. These professional "workhorses"
guarantee a cutting-edge user experience whilst ensuring greatest possible safety and security. We focus on our most important trait: Strength! Our fog-generators cover all possible application areas. Reliable. Robust. Customer friendly. For experts who appreciate quality as it makes the significant difference to everyday use.